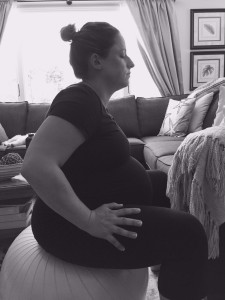 As a Certified Childbirth Educator, Jenny has provided Childbirth Preparation to 250+ families. Through her role as a Birth Doula, she has worked with more than 40 birthing families in different birthing scenarios and outcomes. Jenny's class is structured as a general Childbirth Preparation Class, with a focus placed on the clients' individual birth wishes.
Jenny offers non-biased and evidence-based information to help the birthing mother and her birthing support team to make well-informed and confident choices.


Course Options & Structure
Jenny's Childbirth Preparation Courses are fast-paced, information-packed, and interactive. Materials and teaching methods include handouts, discussions, a workbook, visual aids, scenario enactment, and self-study/homework. As part of the course, each couple is required to complete reading and activities before-hand in order to be best prepared for the in-person sessions. Further information/direction is provided once enrolled.
Childbirth Prep Basics (COUPLE'S COURSE): Designed to focus on one individual couple. This course is given in a 6-Hour format (over two sessions) in the couple's home or other designated location.
Childbirth Prep Basics (GROUP COURSE):  Designed to focus on

two to four

 couples learning at the same time. This course is given in an 8-Hour format (over three sessions) in one of the couple's homes or other designated location.

Course Topics Covered
Body Mechanics – Anatomy and Conditioning
Stages of Labor and What to Expect for Each – Emotionally and Physiologically
Birth Plan/Wishes Guidance
Cesarean Birth (planned and unplanned)
Coping Techniques: Breathing, Massage, Medications,
Relaxation and Visualizations
Communication Strategies Between the Laboring Mother (couple) and Healthcare Providers
Epidurals and Other Pain Management Options
Partner Preparation/Support
Medical/Obstetric Interventions and Options (for mother and newborn)
What to Bring to the Hospital or other Birthing Location
Postpartum Recovery and Early Parenting
Recommended Resources for Further Education and Preparation including Community Referrals


Fee and Payment Options
COUPLES COURSE FEE: $250.00 USD for a payment made via check or cash. If paying through PayPal, please add $10.00 USD to the total fee.
GROUP COURSE FEE: $225.00 USD for a payment made via check or cash. If paying through PayPal, please add $10.00 USD to the total fee.
If you live more than 15 miles away from zip code 94553, please add a $25.00 USD travel fee to the total fee.

To Enroll in a Childbirth Education Class:
Use the Contact Form to inquire with Jenny about current schedule openings.
In order to fully book a class, a contract will be emailed to you to sign and full payment must be received.
Jenny offers private prenatal classes in client's homes. These classes are separate from the

prenatal classes

she contracts to teach for a local hospital system.
Jenny is also available to instruct group classes for employees of local business.

Additional Courses Available Soon: Newborn Care, Birth Plan Guidance, Birth Comfort Measures, Breastfeeding Basics, Preparing for a Cesarean Section…and more.

Copyright 2014-2017 • Bay Bee Birth Services, LLC • Martinez, CA
Owner: Jenny Bare, MPH, CLD, CLE, CCCE, CHES
Ph: 925.381.9563 • E-Mail: baybeebirthservices@gmail.com